In the second of a series of Trustee Q&A blogs, we speak to Jane Kiely, who has been a trustee of The Charity Service since 2021.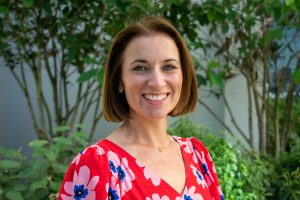 Can you tell us about your background and professional career?
I am the Head of Marketing for Byotrol, an innovative chemical company in the North-West, and have a background in strategic marketing, communications, and brand management.
What initially interested you in becoming a trustee?
After losing my spouse suddenly in 2017 and receiving support from bereavement charities, I wanted to give back to my local community. However, I struggled to find a way to fundraise regularly for the charities I was passionate about. A trustee position allows me to contribute my professional expertise in a meaningful way, without demanding too much time from my already busy schedule of being a parent and the sole-provider for my family.
Why did you choose to join The Charity Service?
The Charity Service has a very clear set of values which align with my own. The trustees were proud of the work they do to help both charities and donors. Chris Mills, the charity's Head of Philanthropy Services, explained how The Charity Service was committed to equality, diversity and inclusion, and was keen to bring greater diversity to the board. It spoke volumes about the organisation and the team of trustees, which instilled a lot of confidence in me.
What do you enjoy most about being a trustee at The Charity Service?
As a member of the Grants Committee, which advises on grant making when there is no surviving donor or nominated advisor for a fund, I enjoy learning about the charities we support and the people who benefit from their work.
What are The Charity Service's key strengths?
The Charity Service is a values-driven organisation which seeks to maximise the generosity and impact of philanthropists. I see our strengths primarily as offering independent expertise in charitable giving and being able to identify effective avenues to distribute charitable funds. For example, when running a grants programme for small grassroots charities, we support applicants throughout the grant making process.  Our small but dedicated management team are integral to these strengths, and we receive excellent feedback from the charities we work with.
Where would you like to see The Charity Service in five years' time?
The current team does an extraordinary job with the resources available, but our reach is still relatively small. I would love to see The Charity Service more widely recognised by donors for our philanthropy advice and our high standards in charitable giving.
What advice would you give to someone considering becoming a Trustee?
I came to The Charity Service without any trustee experience, and I've found it easier than expected to adapt my skills to have an impact on strategy and governance. My advice would be to put any reservations aside and give it a try. My time as a trustee has already brought me more satisfaction and pride than I had ever expected to find.